Describe the issue/error/question
I've connected the Hubspot developer account in the n8n, the test connection works, no errors. Once I finish setting up the node, I get this :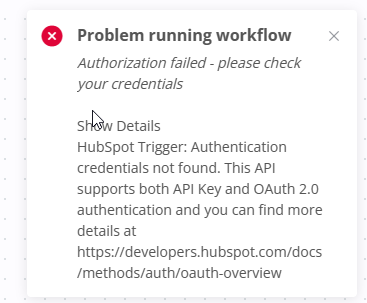 The node workflow is getting deals with changed property, but none of the triggers work.
I've set up all the scopes for those, otherwise I could not connect at all.
Can you please help me with that?
The workflow is just a trigger node.
n8n version 0.221.2
n8n running in a docker container on an Unraid server with nginx reverse proxy and a separate domain with https.
By the way, simple hubspot node works without issues (listing deals for example)
Thanks